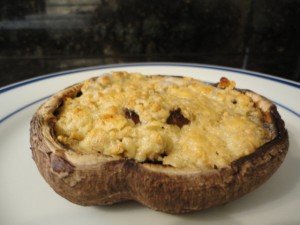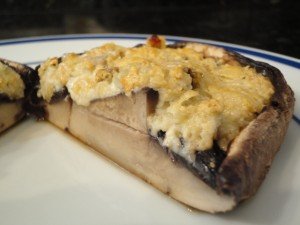 I was never a fan of Portabella Mushrooms. Not because I do not enjoy the complexity and earthy flavor that different mushrooms provide to a dish. More because Portabella Mushrooms had become too popular and for some inexplicable reason each time I ate one, someone had marinated it in balsamic vinegar for far too long. It was like chewing on a sponge soaked in vinegar.
I do not remember the reason why, but one day I bought too many Portabella Mushroom caps and had no idea what I was going to do with all of them. It was one of the moments of clarity in the kitchen that translates into an amazing creation. I am sure others had thought of the idea themselves, but I have never considered the notion until a few months ago.
I had mushrooms. I love stuffed mushrooms. Is there anything that does not go well with blue cheese? It was a simple process of saying, "Why not?". There was no experimentation, no checking on-line for tips or ideas, it was an experiment of pure guess work that was a success the first time it was attempted.
Ingredients:
1 Large Portabella Mushroom Cap
1 Handful of Crumbled Blue Cheese / Mushroom Cap
Instructions:
Poke three or four slits through the mushroom to allow the juices to drain when it bakes.
Preheat the oven (toaster oven) to 350 degrees Fahrenheit
Place mushroom in aluminum foil and bake for 20 minutes.
Add crumbled blue cheese to the top of the mushroom and then broil for 5 – 7 minutes.
Take the mushroom capped with melted blue cheese out of the oven (toaster oven) and allow it to cool for a few minutes before enjoying. If not, you will burn your mouth.
Whether it is enjoyed as a stand alone snack, a side dish to a meal or even as the bottom component of a grilled turkey burger topped with sauteed onions the flavor and texture is full of contradictions that pair well together.
An alternative to using the large caps, is to use the smaller Baby Portabella Mushrooms. Remove the stems (save them for vegetable stock), baked them for a lesser amount of time, top with crumbled Blue Cheese and then broil for 5 minutes. A perfect complex flavored appetizer that is more bite sized then a snack.