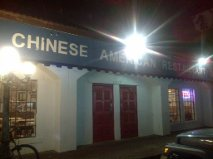 Someone once told me that in Houston, TX you could eat a different non-chain restaurant every day of the year and never once repeat a location. Not only is this true, but I am willing to bet that within Chinatown the same rule applies. I have lived in Houston, TX since 1996 and in that time I have eaten at many restaurants. They have ranged from outstanding to mediocre, high end to hole in the walls, fairly priced to breaking the bank, classic rendition of peasant food to cutting edge fusion of flavors and techniques.
What I find most interesting about my preferences is that despite all of the possible places to eat and the selections in which to choose, I find myself going to only a few restaurants continuously and faithfully.
Chinese American Restaurant located on the edge of Chinatown in Houston, TX at 11317 Bissonnet is one of those restaurants that I have been enjoying since 2001. I was first introduced to the restaurant by my friend Regina and I have been going  there ever since. To enjoy this restaurant at it's best, a group of 6 or more, preferably 10 people or more should be in attendance. It is only then with the dishes being served on the lazy-susan in the center of the round table can everyone enjoy all of the selections. The first time I was brought to this restaurant there were at least 9 people in attendance and last night there was once again 9 friends around the table. To say that I go to this restaurant more then any other place in Houston is a fair statement. Likewise, I go with this same group of friends and very rarely anyone else.
One does not find this restaurant on their own. It is neither in a location that you would purposely drive to at night just as the exterior has probably not seen an upgrade in over a decade. However, do not allow any of these excuses to deter you from enjoying the food at the Chinese American Restaurant. When you first walk in, the first thing that almost immediately happens is that the Chinese patrons look at my rugged good Mediterranean looks and ask themselves why has this Caucasian entered. This may be a small exaggeration, but you get the point. This restaurant serves authentic, unadulterated Cantonese style Chinese Food with minimal American influence. Yes, you can ordered many of the Cantonese American style dishes; i.e. Kung Pao Chicken, but I have never ordered or eaten this dish.
Last night's dishes included if I remember correctly; Fried Squid, Kway Teow (flat noodles) with shrimp and Chinese sausage, Dry noodles with shrimp and kai-lan, Fried Soft Tofu, Fried Fish, Beef short ribs with eggplant in clay pot, string beans and minced pork, Beef and thin sliced lotus root, Sauteed sugar pea greens (stems and leaves), and Fried soy chicken. It would appear that it was a lot of fried food, but the "frying" is done in woks with a variety of sauces and seasonings added.There was also white rice, but I did not have any.
The restaurant is neither high end or fancy. It is a place to eat good Cantonese Style that is made fresh and is served hot. There is no rhyme of reason to the order in which the dishes are served. They come out of the kitchen in one's and two's over a period of an hour to an hour and a half which makes for an enjoyable evening with friends as you eat and talk through each of the plates that are served. The two additional bonuses for this restaurant is that almost all of the dishes are priced less then $8 (complete bargain) and they have a BYOB (no corkage fee) policy for alcohol.
The rule of thumb when ordering at the restaurant is to order one more dish then the number of people that are in attendance. The portions are large and not filled with non essential vegetables that one typically finds in dishes ordered in more Americanized Chinese restaurants.
There are numerous reviews by locals on the restaurant and the positives far outweigh the negatives. Try the place out for yourself and if nothing else stay away from the more traditional Americanized dishes and experiment with a dish you have not tried before.