The first time I tasted Mongolian Beef was at a Chinese chain restaurant called P.F. Changs. The beef was wonderfully salty, savoury and very tender. Since then, I've developed my own recipe and it has now become a regular dish on our dinner table. The dish itself is of American-Chinese origin has has nothing to do with Mongolia.
Ingredients
1 lb (450g) skirt or flank steak sliced into strips
1 tsp ground ginger
1 tbsp Chinese 5-spice
1 tsp chili powder
0.5 cup (120ml) of soy sauce
2 tbsp brown sugar
1 large garlic clove, crushed
2 tsp Shaoxing wine (rice wine)
4oz (115g) shiitake mushrooms
2 large chopped spring onions (green onions)
2 tbsp cornstarch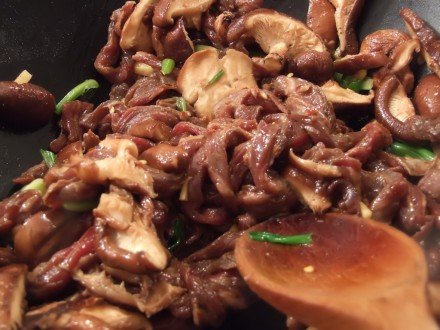 Method
In a bowl Mix together the ginger, Chinese 5-spice, chili powder, soy sauce, sugar, garlic, Shaoxing wine and cornstarch. Add the beef, cover and leave to marinade for at least 2 hours. Heat 2 tbsp of vegetable oil in a wok or large frying pan to medium high. Add the onions, mushrooms and stir fry quickly for a few seconds. Add the beef to the wok without the liquid marinade. Using tongs will help with this. Keep the beef and vegetables moving and after the beef has just started to brown, add just enough of the marinade to cover half the beef and vegetables. Bring to a boil until the sauce has thickened. Serve with rice, steamed or stir-fry vegetables.