We eat fish usually about once a week, and a lot of the time we either oven bake or grill the whole fillet with nothing more than some herbs or a little seasoning. What fish we buy depends on what is on offer at the time and this week it was salmon. I was in the mood for a bit of comfort food, and as a kid I loved fish finger (fish sticks in the US), but as a adult (debatable) I felt that I had to make something a bit more grown up. The answer was oven baked salmon goujons and a honey mustard sauce, but to help boost the flavour I used mayonnaise as the base for the sauce and to coat the salmon before breading it with cornmeal.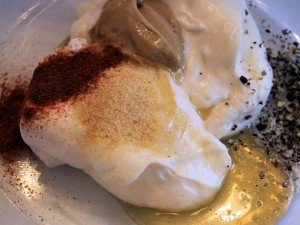 Ingredients
1lb Salmon fillet
1 cup (130g) coarse cornmeal
4 tbsp of mayonnaise
1 tsp of paprika
1 tsp of garlic powder
2 tbsp of white white vinegar
1 tsp Dijon mustard
Freshly ground black pepper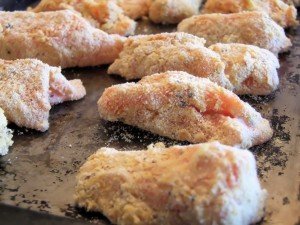 Method
Mix together the mayonnaise, paprika, garlic powder, vinegar, mustard and black pepper and reserve half the mixture for serving. Cut the salmon into strips across the fillet about 2cm (3/4″) thick. Mix the salmon strips with half of the honey mustard mayonnaise to coat thoroughly.  Next dredge the salmon pieces through the cornmeal until coated thoroughly. Place the salmon onto a greased baking sheet and place in a 190C (375F) oven for approx 15mins. Serve the salmon with the other half of the mayonnaise, note: you may want to water down the mixture with a little water to get it to pour.