The word kofta literally means 'to grind' and comes from the Persian word kūfta. Though the spelling is slightly different, kofta is known all the way from the Eastern Mediterranean, through the Middle East to India. Basically kofta is ground (minced) meat, mixed with spices and formed into meatballs. However in this dish, the kofta meat is formed into sausage shapes before cooking to make kofta kebabs, or kabab koobideh as they are know in Iran.
Lamb Kofta Kebabs
Ingredients
1lb ground lamb
3 cloves of garlic, crushed
1 tsp salt
a small, onion grated
a handful of chopped fresh parsley
2 tsp ground coriander
1 tsp ground cumin
0.5 tsp chilli pepper
0.5 tsp ground cinnamon
0.5 tsp ground ginger
Freshly ground black pepper
Method
Mix together all the ingredients in a large mixing bowl by hand, being careful not to over handle the meat. Divide the meat into 6 or 8 equal sized portions and form long sausage shapes. You could form the kebabs around bamboo skewers to aid with turning on the grill. Cook under a medium high broiler (grill) for about 6 to 8 mins, rotating regularly until cooked. Serve with a simple fresh salad, tzatziki sauce (see below) and flat bread .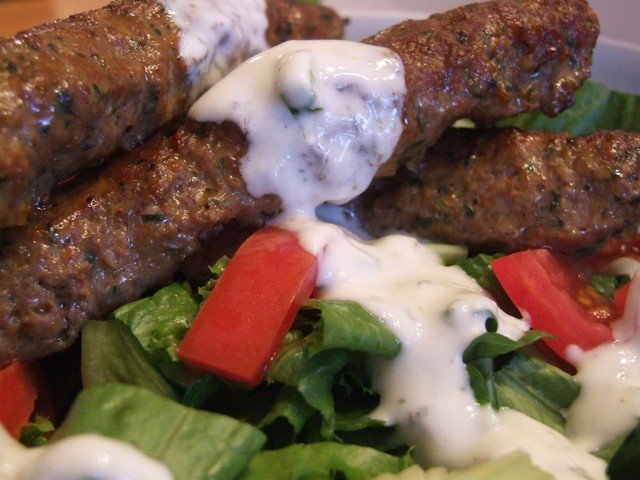 Tzatziki
Tzatziki is a yoghurt and mint sauce from the Eastern end of the Mediterranean and can be served as an accomplishment to food or on its own as a dip for bread,
Ingredients
1  cup (235ml) plain Greek yoghurt
1 lb cucumbers, peeled
1 clove of garlic, crushed
1 tbsp fresh mint, chopped
1 tbsp fresh lemon juice
0.25 tsp salt
Method
Finely chop the cucumber using a food processor and then using a cheesecloth, or tea-towel, squeeze all the liquid from the cucumber.  Mix all the ingredients together and then leave in the refrigerator overnight for the flavours to develop.