Smørrebrød is literately Danish for butter and bread (smør og brød), but has come to mean Danish open-faced sandwiches. If you have ever been to Copenhagen, you will have surely seen shop windows displaying meticulously arranged open sandwiches which are an important part of Danish life. The basis for Smørrebrød is rugbrød, a dark rye sourdough bread which I've been making recently and hence the reason for a post about it.
Traditional toppings include pickled herrings, cheese, eggs, liver pates, vegetables, salmon, meats and sausages, and sometimes decorated red onions, dill and fish roe. Since the sandwiches are open and don't have another piece of bread to hold it together they are usually eaten with a fork and knife.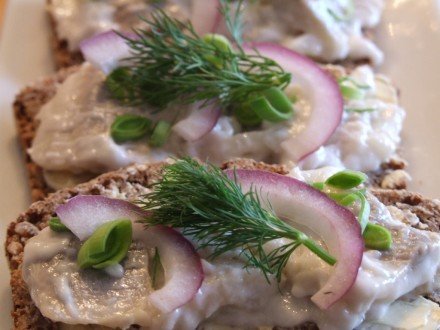 I am sure that Danes may have issues with my sandwich creation, but like a lot of things, you have to experiment with what you have. I buttered some slices of rugbrød, placed some chunks of herring in cream sauce on top and then decorated each sandwich with some chopped baby leeks, slices of red onion and a sprig of fennel. We ate these with a little glass of aquavit, which we got from Bill's alcohol re-gift party, however it was Norwegian instead of Danish. Emily still had bad memories from the last time she drank aquavit, so she didn't finish it. The sourdough tang from the rye bread is a perfect accompaniment to the herring, and the red onion didn't over power the taste, which it can do sometimes in salads.