I can't remember where or when I had my first quesadilla (pronounced kesa-D-a), but to me it is the perfect example of a cheese sandwich. As with anything made of tortillas, a quesadilla is just one of the many ways of folding them into different foods and in the case of quesadillas, the tortilla is folded into a half-moon crescent, and the cheese inside sticks the two sides together.
In traditional Mexican quesadillas, they are usually made from corn masa tortillas filled primarily with queso Oaxaca, a type of stringy mozzarella like cheese. Other ingredients are sometimes added such as refried beans, avocado, meat and in certain parts of Mexico they use wheat flour tortillas instead of corn masa. In the South West USA, where you will find Tex-Mex food, quesadillas are predominantly made with flour tortillas, use cheddar cheese (or Monterey Jack) and more often than not have a variety of fillings added to them.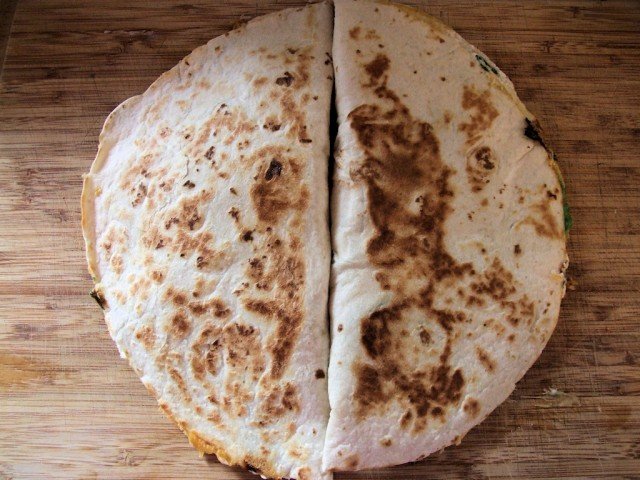 My favourite quesadilla recipe is made with avocado, prawn, sour cream, jalapeños and a little grated cheese. I prefer these over any other type, as the cheese is just used for sealing the quesadilla, not the main flavour, and this allows the freshness of the other ingredients to come forward. My method of cooking is slightly different from most that I have seen, in that I build the quesadilla before putting it in the pan, rather than building it in the pan. This allows me to quickly cook them for eager waiting mouths and gives me a chance to have one myself before they are all devoured. I have tried using corn tortillas, but you must heat the tortilla first otherwise it will split when you try and fold it.
Ingredients (for about 4 quesadillas)
4 large burrito flour tortillas
10 cooked large prawns, sliced length-ways in half to make them flatter
1 avocado sliced
20 jalapeños slices, pickled or fresh
Juice from half a lime
2 heaped tbls of sour cream or Crème Fraiche
bunch of cilantro (fresh coriander), chopped
Salt and freshly ground black pepper to season
Method
First mix together the sour cream, lime juice, cilantro, salt and pepper.  On a clean work surface lay out a tortilla, a spread a quarter of the sour cream mixture over half of it. Lay some prawns, avocado and jalapeños onto the sour cream. Be careful not to pile on the ingredients, otherwise you will have difficulty in keeping the quesadilla together. Sprinkle a little cheese around the edges of the sour cream half of the tortilla. Fold the tortilla in half and transfer to a medium hot skillet or griddle without oil. Cook on both sides for about a minute each, pressing down the edges to seal. Depending on the size of your skillet you may be able to fit two quesadillas at a time into it. Cut the quesadilla into 3 triangles and serve as is, or with some sour cream, guacamole or salsa.