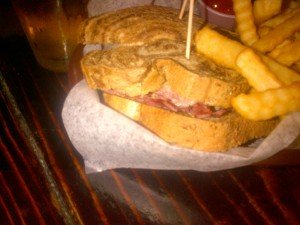 It is no secret that I will go great distances to enjoy a Reuben Sandwich. What makes the Reuben Sandwich at Einstein's Pub on Mason Road in Katy, TX so enjoyable is that the establishment is about a mile from the house.
I have lived in Katy, TX since 2002 and will admit that I have not come close to trying all of the restaurants located on Mason Road. I probably have only gone to Einstein's a few times, typically to drink a beer or two at night on my way home from socializing. At night the pub is loud, crowded and is an interesting mix of people that call Katy, TX home.
I have gone to Einstein's Pub twice for lunch and this is the time to enjoy their Reuben Sandwich. There is typically only a few patrons lounging on bar stools, but the place is much more quiet. You can have a conversation and the beer on tap is cold and fresh. This is another positive for Einstein's Pub, they have a decent selection of beer on tap.
The first time I ate the Reuben Sandwich at Einstein's I was amazed at how well it tasted. Not only was the sandwich a good representation of a Reuben, but how the cook had prepared the sandwich is what was unique and innovative. The cook first grilled the Pastrami, then added the Swiss Cheese to the meat and then topped it with the sauerkraut. Nothing too amazing about this, but then what the cook did different was that he folded the layered ingredients so that the cheese and sauerkraut were inside the "roll" of meat. It was amazing.
This last time that I went to Einstein's, I met my friend Chris for lunch. The beer was cold and the conversation was good. Although the Reuben Sandwich was not prepared in the same fashion, it was just as good. The portion of meat was generous, the amount of sauerkraut, cheese and thousand island dressing were spot on and the marbled rye bread was toasted. Einstein's Pub for being a bar first does a great job in delivering classic Reuben.
As mentioned, I will go to great effort to try a Reuben Sandwich, but it is comforting to know that a mile from my house I can find a great sandwich and cold draft beer when I am desiring a Reuben.
In my Reuben Reviews post Einstein's Pub is rated:
Classic Representations / I think there are other items on the menu?