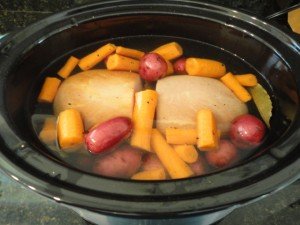 Let us be honest, most meals in a crock pot (slow cooker) are either over cooked, too salty or fall well short of the vision we had imagined when we first read the recipe. As a means of convenience, the slow cooker is a great innovation from the early 1970's that played into the overall demise of cooking from scratch (TV Dinners, Sloppy Joe Mix and everything can be Casseroled). Despite many of the negative connotations associated with slow cookers, there is a time, place and even specific meals that do very well in a crock pot.
Personally I have had limited success with slow cookers. There is however one category of meals that I have successfully mastered in using this no fuss, no mess walk away means of preparing food. That success centers around cured meats, specifically corned (brined / pickled) beef and commercially cured hams. Most of us are familiar with eating corned beef, cabbage and carrots around St. Patrick's Day. More often then not, a slow cooker was used to prepare the meal. There is not much difference in the end result of a corned beef versus a brine cured ham. Both have been injected / vacuum marinated to allow the primarily salt solution to be fully incorporated throughout the entire piece of meat. The net result is what would otherwise be a tough chewy cut of meat has now been tenderized.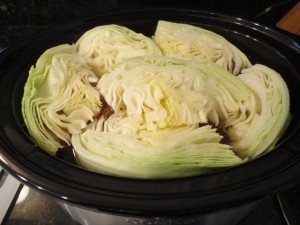 I remember growing up eating what was known as a Picnic Ham that had been boiled with carrots, cabbage, potatoes and was served more often then not with only a little amount of broth on a plate. Living in Houston, TX is is difficult to find a Picnic Ham at the grocery store. A Picnic Ham is also known as a Boston Butt or Pork Hand. A viable alternative is a personal sized deboned ham.
As Spring in Houston fast approaches which means that the air conditioning will be going on soon, the desire to eat soups and stews diminishes. It was time to pull out the crock pot and prepare a slow cooked ham and vegetables. This meal is deceptively simple and despite being cooked for hours the flavors are subtle yet fully developed. In my opinion what makes this meal so pleasurable is that the saltiness of the ham while submerged in the water during the cooking process is drawn out flavoring the vegetables, reducing the saltiness of the ham but not diminishing the ham flavor.
The most difficult part of this meal is finding the correct sized ham and flavor at the grocery store. Preferably you will want to find a deboned cured Picnic Ham, but more likely you will find a personal deboned ham that is between two to four pounds. Stay away from Maple or Sugared cured hams for the meal will fall short of expectations.The size of your crock pot will determine how much of the ham you will use for this meal.
Ingredients (Large Crock Pot):
2 – 4 Lbs Ham (depending on the size of your crock pot you will need to cut the ham into two or more pieces)
5 – 7 Carrots sliced and cut into thirds
8 – 12 Small Whole Potatoes
1 Cabbage quartered and then halves (8 wedges)
2 – 3 Bay Leaves
Fresh Ground Pepper (I cranked the mill twenty times)
Water
Spicy Deli Mustard or Horseradish Mustard
Instructions:
6 – 8 hours before you are ready to eat add the prepared ham, potatoes, carrots, bay leaves to the crock pot
Add water to the crock pot so that the ham pieces are well covered
Turn on the crock pot to low and walk away
An hour to an hour an a half before you are ready to eat, place the wedged cabbage on top of the other ingredients in the crock pot then put the cover back on the crock pot
Walk away
With a ladle take out the cooked vegetables and place them on a serving dish
The ham will be intact. Remove from the crock pot and slice to the desired thickness
Serve with mustard
A large crock pot of this meal will feed four adults with extra servings available.
I made the mistake a few months ago of discarding the broth that was remaining in the crock pot. The irony of discarding the broth was that I had been complaining to Stuart that it was difficult to find Ham / Pork Stock or Bouillon in Houston. Stuart reminded me that I could have reduced the broth to a stock. This past time I did just that, but that will have to wait for another post from me.