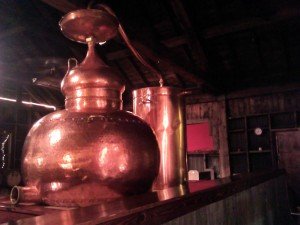 Recently I was in Crested Butte, Colorado ski-ing and across from our hotel there was a bar called Montanya Distillers. Thinking it was just a funny name for pub, we didn't go there the first night, as there are so many places to go in Crested Butte, even though it is such a small town. After dinner on our last night we thought we should go in for a night cap, which turned into quite a few.
Montanya Distillers isn't just a pub, but as the name implies they are distillers, who make American rum. The distiller is in another part of town, so we weren't able to have a tour. They make two types of rum, Platino Light Rum and Oro Dark Rum made from raw, unrefined sugar-cane imported from Hawaii. Because of this, no sulphur is produced during the fermentation, which can produce bitterness found in some molasses-based rums.
There are two theories to the origin of the name rum. The first was suggested to have come from the British slang term for "the best" as in "having a rum time", the other is from the Latin word for sugar, "saccharum". Neither theory holds much weight and though there is disagreement over the origin of the word, rum itself has been brewed for centuries in various forms.
Their Platino was smooth, light with a hint of vanilla and the Oro was full bodied with a hint of honey and vanilla. However the majority of the rum we had to drink came in cocktail form.
First we ordered the special 'Strawberry Daiquiri' (I don't have the recipe for this one) and a 'Montanya Mojito'. The daiquiri was a little sour, but the mojito was perfectly fresh and minty.
Montanya Mojito
Collins glass filled with ice and a sugar rim
1 squeezed lime
2-3 muddled mint leaves
2-3 oz Platino
Top with Seltzer
Next we had the Thai Boxer and the White Room (without Almonds)
Thai Boxer
Collins Glass with ice and a sugar rim
0.5 squeezed lime
3-4 basil leaves muddled
2 tsp blueberries and some juice
2 oz Platino
Fill with ginger ale and seltzer
White Room
Martini Glass
1.75 oz Vanilla infused Platino rum
1.25 oz Oro
2 oz light cream
0.5 oz simple syrup
Splash Orgeat syrup
Strain into glass and garnish with almonds
After tasting the White Room, it reminded me a little of Demijohn's Vanilla Cream Vodka Liqueur and the 'White Russians' I used to make with it. I noticed that there was a coffee machine behind the bar and asked if they could make me a cocktail not on the menu. They were a little sceptical at first, but once they tasted it, they agreed it was a successful concoction. Emily had the Rio de Janiero
The Rio de Janiero
Collins glass filled with ice / mix in shaker
2 oz Platino
2 oz Pineapple juice
0.25 cup cream of coconut
1 oz orange juice
Strain into glass, drizzle with grenadine and sprinkle with nutmeg. Garnish with lime
Stu's White Russian
Martini Glass
2 oz Vanilla infused Platino
1 oz Oro
1 shot of espresso
2 oz light cream
If you are ever in Crested Butte it is well worth the visit, but I believe they also have some distribution across the U.S.A as well