My family loves pie and pie of the Bourbon Derby variety is at the top of our list. It's similar to pecan pie in that it's filling as a corn syrup base, but it's so much better.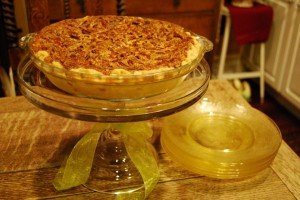 The first step to a delicious pie is the crust. Cheating on pie crust doesn't save that much time and it cuts out so much of the flavor! My pie crust recipe is from "Cook's Illustrated". My friend's Grandma who grew up during the Depression and spent her entire life making everything from scratch told me this crust is the best she has ever had. It's good because it has a secret ingredient. You'd never guess it either….vodka. Makes the crust have a perfect texture and imparts no flavor.
Perfect Pie Crust:
1-1/4 (6-1/4 oz) unbleached all purpose flour
1/2 tsp table salt
1 Tbsp sugar
6 Tbsp (3/4 stick) cold unsalted butter, cut into 1/4-inch slices
1/4 cup cold vegetable shortening, cut into 2 pieces
2 Tbsp cold vodka
2 Tbsp cold water
I make the crust the old fashioned way with a pastry blender or two knives held together cutting the cold ingredients into the dry, but you could also use a food processor too.
Blend the flour, salt, and sugar together. Cut the butter and shortening into the dry mixture. When the dough is homogeneous and collecting into even clumps, sprinkle in the vodka and water.
Regardless of how you got to this step, use a rubber spatula and a folding motion to press down on the dough until it is slightly tacky and sticks together. Pick up the dough and form it into a ball then flatten it into a 4-inch disc. Wrap in plastic wrap and refrigerate for at least 45 minutes or up to 2 days.
Now put the dough into the pie plate. I don't use a roller to flatten the dough but you could. I just lightly flour a pie plate and spread the dough with my hands, working from the middle to the edges. Once the dough is rolled out into the pie plate, you can use your two fingers on one hand and thumb from your other hand to press the edges neatly into little peaks. Use a fork and make a few stabs in the bottom of your pie plate as well as a few on the sides. When finished, put it back in the refrigerator for at least 15 minutes. Now make the filling.
Bourbon Derby Filling:
1 cup melted butter
1 cup sugar
1 cup corn syrup
4 eggs
2 Tbsp bourbon
1 cup chocolate chips
1 cup walnut or pecan halves
Mix butter and sugar together, add corn syrup, then eggs and bourbon. Blend thoroughly. Spread chocolate chips in bottom of pie shell. Pour in butter mixture until shell is almost full. Scatter nuts over the entire surface of the butter mixture. If shell is not full, top off with remaining butter mixture. Bake at 350 degrees F for about 45 minutes or until the center of pie is almost firm. If it is a little shaky like jello, that is okay, it will firm up after it cools. Serves 8-12.