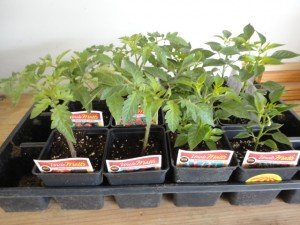 When the heat went on this morning in the house the first thought that I had after the need to make coffee is that I hope my tomato and hot pepper seedlings that I planted yesterday are okay.
Yes, it is late February, but here in Houston, TX is time to begin planting the summer vegetable garden. The USDA Plant Hardiness Zone for Katy / Houston is classified as 8b-9a which basically means that the lowest typical winter temperature is between 20 – 30 degrees Fahrenheit in a cold winter. I think that this year the coldest temperature experienced was 32 degrees Fahrenheit. This basically infers that the last frost date is in February. It is time to plant the tomatoes.
The iconic image of a large red flavor bursting tomato may not be as wide spread as apple pie in American culture, but the vegetables of summer; tomatoes, sweet corn, watermelon, cucumbers, okra and peppers to name a few come in a close second. What makes growing tomatoes and peppers a little tricky in Houston is that in late May / early June when the daytime temperatures go above 90 degrees, the plants stop setting fruit. Therefore it is a race of time to get the plants into the ground and growing before it becomes too hot for fruit production.
For tomatoes with a maturity date between 45 and 90 days, this brief period in Spring can be vexing. Mid to late February to the end of May is only about 105 days, but with late February to mid March the temperatures are still cool enough that plant growth is stunted with the first tomatoes not ripening until early May. This provides only a four to five week window to enjoy tomatoes. Pepper plants are a little more forgiving in that they produce a first harvest in May / June, then go dormant again until late September. In a good year, one can harvest peppers until the first frost which typically does not arrive until December.
My experiences with vegetable gardening are directly attributed to my father's love of gardening. He had a large vegetable garden when I was a child and although not all of my memories are fond (who wants to weed?), he did impart a love of vegetable gardening on me in his own subtle manner. My first experience with growing vegetables was in The Gambia, West Africa as a Peace Corps Volunteer in the 1990's. I was not very successful in my own backyard garden in the village, but I do remember harvesting okra and manioc. One of the very first things that I did when I purchased my house in 2003 was to begin preparing the backyard for a vegetable garden.
I have grown tomatoes and peppers in Houston since 2003 and every year provides it's own set of challenges and rewards. There has been great years and then years where I have almost given up on a specific vegetable. Regardless of the trials and tribulations, there is nothing compared to the satisfaction of enjoying the special flavor that a home grown vegetable provides. I have only dedicated four, eight foot by 3 foot raised beds to grow vegetables in my yard and most years I produce enough that I give much of the produce away to friends. There is only so many tomatoes you can eat when the plants are in full production.
Growing vegetables in a family's backyard is a integral part of American history. There was a resurgence during WWI and WWII with the Victory Gardens to offset the food rationing and this tradition continued for the next few decades. The hobby of gardening began to wane in the 1990's, but there has been a resurgence of home gardens in the past few years with the locavore movement, the increased cost of vegetables in the grocery stores and the wider selection of varieties including improved hybrids and heirlooms. I am not so naive to believe that the cost to grow vegetables in my backyard is any cheaper then buying them at the grocery, but there is satisfaction of growing and harvesting vegetables from a small lot in your backyard. All of the frustration and patience required pays off the first time you bite into that vegetable that has been grown within walking distance of the kitchen.
This summer I will grow tomatoes, hot peppers, cucumbers (will sow seed in lieu of purchasing plants) and I have not yet decided on what will be grown in the fourth vegetable bed. I have a few weeks to decide and thankfully the local garden nurseries have the vegetable plants delivered at the right time of year to let you know when it is time to plant.
The tomato plants should be fine, the low temperature this morning was 39 degrees Fahrenheit.