I recently came back from a business trip to South Africa, where I tried lots of really great South African food, and just had to buy a cookbook before I left, to give me some ideas to try at home. I was torn between a choice of two South African cookbooks, but in the end I choose the one written in English, the other being in Afrikaans.
The book I bought was 'South Africa Eats' by Phillippa Cheifitz, which won the 'Best Culinary History Book'. Like South Africa itself, this cookbook, is a collection of the various cuisines that make up the country introduced by the various immigrants over the years, including the Dutch Afrikaans, Jews, Greeks, Italians, Indians, Indonesians, British, etc.
Since making crepes the other week I wanted to try this obviously Dutch influenced dish of asparagus crepes, or asperge pannekoek in Afrikaans. It is quite a simple dish of savoury parsley crepes, cooked asparagus and cheese, baked in the oven. They would great for a simple light lunch or starter as well as an addition to a main meal.
Asperge Pannekoek
Ingredients
8 plain parsley crepes (See Crepe Recipe)
250g (8oz) of cream cheese
24 stems of asparagus, cooked
Mozzarella cheese
6 tbsp of single cream (half and half)
Parmesan Cheese
Salt and freshly ground black pepper
Method
First make the crepes using this Crepe Recipe, but before cooking them add a handful of chopped parsley to the mix.
Take a spoon of cream cheese and smear it over a crepe. Place 3 spears of asparagus in the middle of the crepe and tear of some pieces of mozzarella over the asparagus. Add some salt and pepper.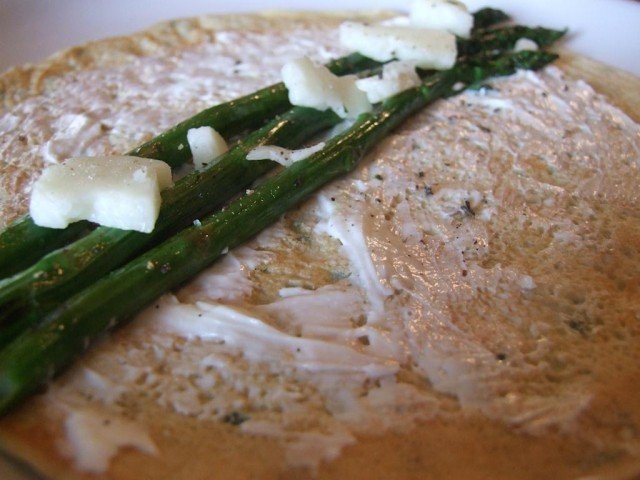 Roll up the crepes and place it in an oven proof dish. Sprinkle the cream over the crepes and then add some shaved  parmesan cheese.
Bake in a 200C (400F) oven for about 15mins until the crepes start to become golden brown and then serve.