After the crawfish boil last weekend, I asked if I could put aside a bowl or two of the crawfish heads and tails as I had an idea for making crawfish stock and it looked such a waste to just through away all that potential flavour. Just think about the tons of crawfish eaten at crawfish boils and how much potential stock could be made with a little effort.
I sealed up the crawfish shells into plastic containers and put them in the freezer when I got home for making the stock another day. When researching how to make the stock, it looked as though it would be very similar to making shrimp stock from shrimp shells, but with the added step of rinsing the crawfish shells since to remove the crawfish boil seasoning. I did this a little at a time using a colander, outside to prevent stray pieces of crawfish going all over the kitchen.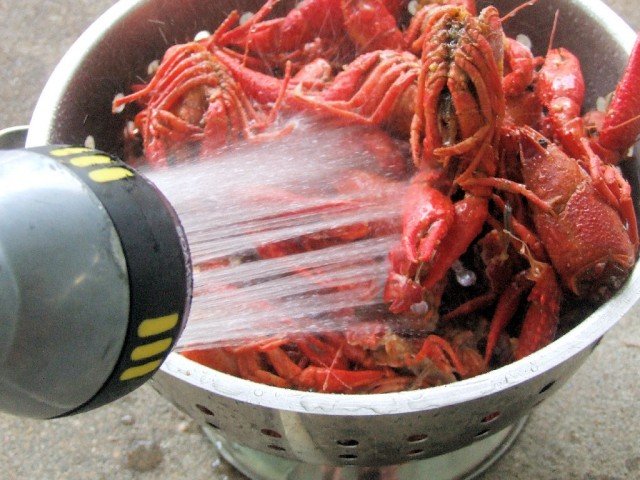 Total time: 1 hour 15 min
Ingredients
Crawfish heads & tails or Shrimp shells (the amount depends on the size of your stock pot. Mine is 8 quarts or 7.8 litres)
3 large carrots
1 large onions
3 stalks of celery
10 whole black peppercorns
2 bay leaves
Method
If using crawfish shells from a crawfish boil, first rinse them under lots of clean, fresh water to remove any of the crawfish boil seasoning and any last remaining debris from the legs. Add the crawfish or shrimp shells to a large stock pot, leaving about a couple of inches head room. Add the mirepoix (carrots, celery and onions) along with the peppercorns and bay leaves. Add enough cold water to just cover the crawfish, boil on high for about 2 mins and then lower to a gentle simmer for an hour. Strain the stock through a fine mesh strainer, leave to cool for a couple of minutes before transferring to zip lock freezer bags and then place in the freezer. As with all fresh stock, boil the stock for 2 mins before using in a dish.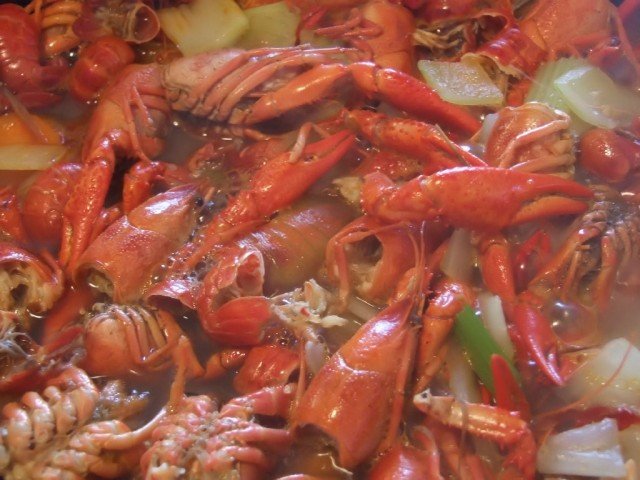 There are hundreds of delicious ways to use the crawfish stock including fish soups such as bisque, risotto, etouffée, gumbo,  jambalaya or even some Thai dishes.