We first tried this drink at a Mexican restaurant in Santa Monica, CA and were surprised at how subtle the jalapeño was, and how light and refreshing it tasted. This is definitely a drink for summer poolside parties or barbecues. Unfortunately it does take a little effort and planning, as the first step is to make the Jalapeño Infused Tequila, which, though you can make it in about an hour on a sunny window ledge, it is best made over 3 days.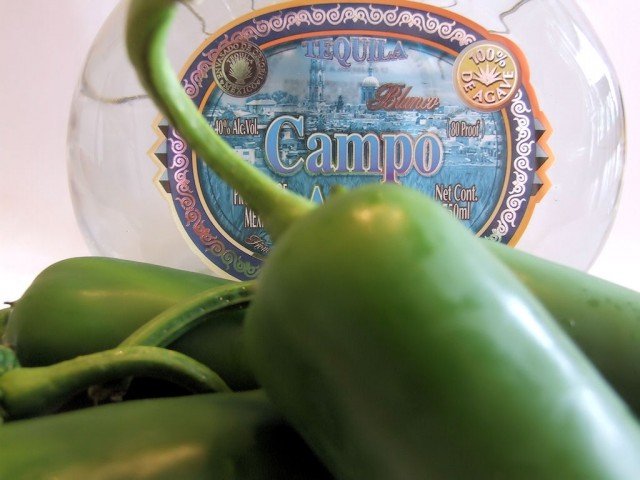 Jalapeño Infused Tequila
This recipe for jalapeño tequila makes enough for four cocktails. It is more of an essences, than a liqueur, as we are not adding sugar, and we only want a light infusion of jalapeño, just for colour and a little heat.
250ml (1 cup) Tequila Blanco
1 Jalapeño, chopped into strips
Take a large clean airtight container, add the jalapeño and the tequila. Seal the container and leave somewhere cool and dark for about 3 days. Remove the jalapeño and discard. Use the tequila within a week, otherwise the subtle flavour will diminish.
Cucumber Juice
Cucumber juice has a wonderful dark green colour and, though a little bland in flavour, it is very refreshing. Half a cucumber is enough for making four cocktail.
Roughly chop half a cucumber, including the skin and add it to a food processor or blender. Add about a tablespoon of water and liquidise it thoroughly. Pass the liquid through a fine mesh sieve, cheesecloth or clean tea-towel to separate the solids from the liquid. I like to re-add about a half teaspoon of the cucumber solids to the liquid if has been well strained, just for decoration. The juice should keep for a couple of days in the refrigerator.
Cucumber Jalapeño Margaritas
Ingredients – per cocktail
60ml (2 fl oz) of jalapeño infused tequila
60ml (2 fl oz) of cucumber juice
30ml (1 fl oz) of simple syrup (Equal parts sugar and water)
125ml (0.5 cup) of crushed ice
30ml (1fl oz) freshly squeezed orange juice
30ml (1fl oz) freshly squeezed lime juice
Add all of the ingredients to a cocktail shaker, shake to combine and pour into a glass, rimmed with salt and garnish with slices of lime.
I have other ideas for up-ing the flavour in this cocktail. Next time I will experiment by adding either basil or cilantro (fresh coriander) and trying different chillies.