Since there has been a glut of peaches at the moment, I thought I'd share the quickest and easiest way to peel peaches, or nectarines (technically a peach), apricots, etc. If the peach is very firm you could use a vegetable peeler or knife, but more often than not, peaches are too soft when you come to use them. Whether  you are making jam, compote, cobbler or empanadas,  this method will help you process a large number of peaches quickly. The next task is removing the pip (pit). How easy this will be, depends on on whether the variety of peach is cling or freestone.
The easiest way to peel peaches
1. Cut a cross in skin of the bottom of the peach (opposite end from the stem)
2. Bring a pot of water to a roiling boil and then drop to a simmer. Drop the peaches, a few at a time in the water to blanch for about 45 seconds.
3. Remove the peaches from the boiling water using a slotted spoon and transfer to a bowl of iced water to stop the peaches from cooking. After about 20 seconds in the ice bath, remove the peaches and let them drain.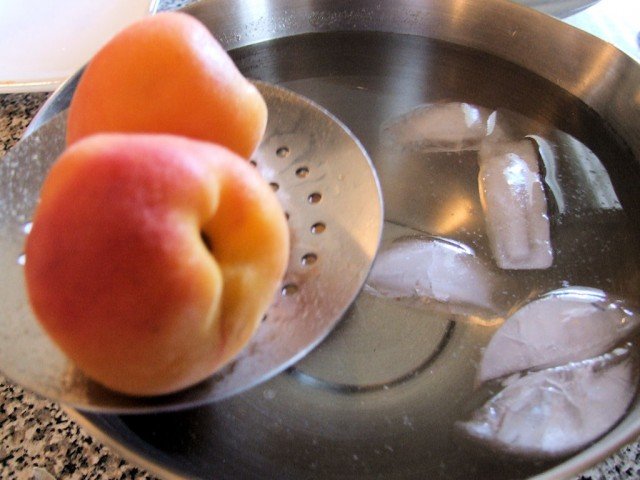 4. You should now be easily able to peel the skin from the peaches. If not, then repeat steps 2 to 4.